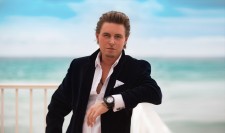 News
•
updated: Aug 3, 2017
VisualTargeting® is The New Industry Standard in Design Trusted in 182 Countries, by Fortune 500's, Business Celebrities, and Marketing Bestsellers. Steven Kronick has worked with Tony Robbins, The Rothschild Family, Ogilvy&Mather, AARP, UniLever, luxury hotels and world governments.
Before Silicon Beach ever existed, 21-year-old Steven Kronick bought a one way ticket to an oceanfront penthouse on Venice Beach, California, to launch a new industry and an invention that has completely revolutionized the entertainment, design, branding and business industries, to the point that it is used in just about every country on earth.
The new industry called VisualTargeting® that he went on to found from a mountaintop Malibu mansion, was the result of a decade-long journey. On that journey, Kronick became Ogilvy's youngest partner and created what has become the new industry standard in design that has been taught at FiDM. And according at least three valuations, the new industry he created, has even made Kronick a billionaire.
I recently sat down with Steven Kronick, Founder of VisualTargeting®, for an in-depth interview to dive deep into some of his story and success. Kronick also has a book about his journey that is available at Barnes&Noble.
There's more to talent than 10,000 hours.
Kronick has worked with Tony Robbins, AARP, UniLever, TIGI, The Rothschild Family, celebrities and world governments, luxury hotels, musicians, producers, and directors, and actively sponsors the American Red Cross and Feeding America. The multi-talented entrepreneur has even been involved in the entertainment industry. Kronick has produced music with people who have sold more than 100 million albums and directed commercials with people who hold the world record for 6 billion viewers.
In case you are confused about the next steps to take with your life or business, sometimes you just have to stop, listen and follow the flow.
"There's more to talent than Myelin and 10,000 hours. Some people have unique gifts from the creator of all: God. Discovering and using your innate talents full time: that's what creates legends," said Kronick.
Find a hobby that will keep you going.
Early on his journey, Kronick's mentors taught him the secret to perseverance. They explained that if you don't spend a good portion of your time on passions outside of business, you will likely burn out long before reaching your goals.
In Kronick's case, these passions were entertainment and music. On his path, he starred for Sony Pictures and has acted for Guns N' Roses. Kronick also has two publicly released original singles and an album in the making. And he has already found his niche, considering he was an instant hit with NFL Cheerleaders and Miss America award winners.
Your hobbies can turn into side hustles that can end up making you money or expanding your career.
"If you don't know what to do, just do nothing and you'll find yourself doing something you are meant to do," said Kronick.
Learn from those before you.
Dissecting and studying the success and methodology of those who have been massively successful is generally great advice. You can learn from their legacy and apply it to what you are building now.
Kronick stated, "Watch the bios of every person you look up to: whatever you're trying to do, find the people who have done a significant part of it, and learn from their legacy, experiences, and advice. And above all, make sure that no matter what you choose to do or create, no matter what happens, you're creating something that you feel will benefit you, and all humanity."
Let the clients come to you.
You can have the best marketing campaign and PR strategy in the world, but that puts you into the mindset of always chasing your clients and customers. Kronick did something entirely different: he let the clients come to him.
I love this strategy because it puts you and your business in the power seat in a truly genuine way. You aren't trying to trick anyone into liking your product, you are simply attracting the right people.
"They notice something useful, something between our companies that just makes sense," said Kronick.
In order to make the people come to you, you need something incredible that draws them in. In Kronick's case, he had a patented technology that everyone wanted to get their hands on, from Tony Robbins to AARP, the largest magazine in America.
"In our case, we had a technology that was able to help anyone," said Kronick.
Simplifying your dreams is not the way to success.
Many people think that they need to simplify and rationalize their dreams. But according to Kronick, that could be a self-limiting belief.
"I think inspiration is one of those things that we're all searching for our entire life, and when we finally have inspiration it's very difficult to rationally understand exactly what inspires us," said Kronick.
And if you think about his words, you will realize that our dreams are our dreams for a reason and they shouldn't be necessarily broken down into "realistic action items." That's the entire point of dreams is that perhaps they should simply inspire us, no matter if they are rationalized into simple steps or not.
You have to find the love in what you are doing.
In order to build something so incredible, that you have people literally banging down your door to get some of, you have to find the love. No matter if you believe in a higher power or not, there is always something bigger than you. And in many cases, it could be serving others, and a greater purpose.
"When you feel it, it's like an energy wave, and that's the power: the power is love," said Kronick.
If you can truly find something bigger than yourself to serve – a cause, a purpose or something that truly helps others – that could be your billion dollar empire.
Kronick concluded, "You're going to need a tremendous amount of sustained faith if you're looking to embark on an impossible journey into manifesting an entirely new possibility."
ORIGINAL SOURCE: http://www.influencive.com/entertainment-billionaire-steven-kronick-founded-new-industry-30/
Share: