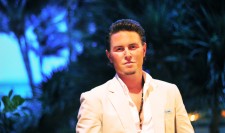 News
•
updated: Aug 3, 2017
Working specifically with celebrity clients, Kronick is helping entrepreneurs, creators, leaders + families make their dreams come true with patented VisualTargeting® technology. His Fortune 500 invention is trusted in 182 countries & has been taught at the Fashion Institute of Design and Merchandising (FiDM) in Los Angeles. His book is available at Barnes&Noble.
THE HUFFINGTON POST INC. 500 FEATURE INTERVIEW WITH ENTERTAINMENT BILLIONAIRE STEVEN KRONICK
When you start a new business, marketing campaign, website, app, project, or create a new stage, how do you know what your design should look like?
If you are anything like me, the answer is "I have no idea." And then you proceed to change it 100 times after the initial version. Ultimately, you are usually left scratching your head and hoping it'll work.
In fact, I have changed many of my designs for my websites so many times that I lose track of how many revisions I've made. It gets expensive and time-consuming. And every designer has a different opinion.
Steve Jobs once said, "People don't know what they want until they see it," and that "It all comes down to taste."
These are not focus groups. These aren't simple split tests like A or B but actually something that nobody could have ever thought to create without first knowing what the global markets have not seen before. In short, this is what people are responding most positively to using a complicated set of intelligent data.
It is incredible what technology can do. And now when you know technology can intelligently create your design based on data, that is just another win for both technology and designers, not to mention businesses and humanity as a whole.
I asked Kronick about some of his celebrity clients to find out how it was impacting their brands. Here is what he had to say:
"Tony Robbins was the first one to call us and reach out for help. Tony grasped the concept immediately, executed it better than anyone so far, and is genuinely enjoying the massive results."
Since the recession, Tony's multi-million-fan Twitter following doubled, he's now coaching Oprah and Richard Branson, and his companies are doing six billion in annual revenues. UniLever places two billion designer products into the homes of people worldwide every year. And AARP continues to dominate American media as the largest magazine in circulation.
Kronick continues: "As far as the effect on our business, our company was made for entertainment celebrities. It just makes sense: that's the only way we can lead the world and get this breakthrough into the hands of every designer and marketing professional in every country on earth."
And Kronick is doing just that. He's helping entrepreneurs, creators, leaders and families make their dreams come true with his patented technology. A technology that has already been used in 182 countries, been taught at the Fashion Institute of Design and Merchandising (FiDM) in Los Angeles, and a book about the patented breakthrough has been made available at Barnes&Noble.
Startups, designers and small businesses can save thousands of dollars on design and branding and see a faster profit and client accumulation as well.
Socially responsible entrepreneurs can gain access to a worldwide database, choose a unique target market (25 billion unique demographic options), and instantly see the precisely unique (1 in 11 trillion) visual preference palette that their exact target market is currently responding best to.
Designers and families can identify individual visual tastes, receiving professional, personally customized palettes, that show them exactly what sorts of visuals will fulfill their individual viewers most genuinely.
Perhaps it's true, when 200 years ago, world-renown author Dostoyevsky prophesied that "Beauty Will Save The World," and today, VisualTargeting® is helping do exactly that.
Source URL: http://www.huffingtonpost.com/entry/how-steven-kronick-empowers-people-like-tony-robbins_us_57c99732e4b06c750dd9a702
Share: