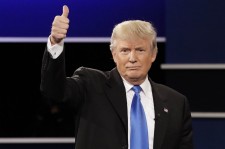 News
-
updated: Oct 7, 2017
After almost 3 years of VisualTargeting® executive meetings with Adobe Board Members via Deutsche Bank Washington representatives, Adobe has sent a light to their 150,000,000+ users that promotes VisualTargeting® StyleTest™ TrendSetter™ Copyrights & United States Patented Palettes, trusted in 182 countries. "I remember the meeting in front of the FBI Headquarters," mentions Steven Kronick.
Adobe is the foremost leader in providing software solutions to the international design community, has been credited with being the company that saved Apple in Silicon Valley's early days, has above 150 million registered users, over 38 million active users, and more than 10 million paid monthly subscribers.
Colors That Make Billions
Bringing five more billion dollars of yearly revenues to the $700 billion per year conversation, Adobe introduces the general concept of VisualTargeting®​ to its users using the simplest example of basic color preferences, reminding the public that certain shades of blue are more effective at causing clicks than other colors. Adobe uses some of the classic VisualTargeting®​ StyleTest™​ TrendSetter™​ color preference testing slides from before 2007 to illustrate the easiest way for consumers to voluntarily communicate these unconscious choices.
Since before 2007, long before the ideas of "Cloud Computing" or "Big Data" ever existed, and years before the new invention of "Silicon Beach," Malibu based VisualTargeting®​ has been developing patented visual preference research technologies as well as performing global visual preference testing on behalf of a plethora of international behemoth clients and partners, in almost every country on earth, while at the same time introducing VisualTargeting®​ principles to Washington, Silicon Valley, Los Angeles, New York City, and London.
"We keep all information classified from the public because we have seen how well it works in individual and group scenarios and have always believed that it should only be accessible to people who have clear good intentions," comments Original Founder of VisualTargeting® Steven Kronick.
​One of the original leading VisualTargeting®​ attorneys happens to also work for Google,​ and after some initial Berkshire Hathaway approved press coverage in 2010 following educational distribution of the original Barnes&Noble book on VisualTargeting® to Silicon Valley venture capital firms including the Founders Fund (Facebook, PayPal, Google, SpaceX), Google got wind of some of the new basic strategy, took it as seriously as expected, and went ahead with applying about 1% of what VisualTargeting®​​ offers to their own business.
The result? Google made an extra $200,000,000 in just the first year of switching its link colors from one hue of blue to another hue of blue, a change that users and consumers never even noticed. The same year Microsoft followed along making an extra $80,000,000 in their first year of doing the exact same thing.
"After BBC Worldwide made this information public in 2014, it is refreshing to see Adobe finally step up to the plate and inform the design community. I have been waiting for Adobe to get involved since before 2007," adds Kronick.
Colors That Make Presidents
Perhaps no example is more meritorious than the most recent United States Presidential Election where basic color evaluation will reveal that President Donald J. Trump was the one most effectively using this same basic audience satisfaction strategy.
To imply that something like the color of a tie would sway an election is intriguing to intelligence itself, however to deny that there is an undeniable statistical relationship between that style element and measurable audience approval at the given moment lets go of very real and actionable opportunities to best fulfill the leadership responsibilities of satisfying the public.
In that very literal sense, if and as needed, there is a specific tie design that would work best in any given room, in any given town, in any given state, each audience is literally unique, and the actual color of any element is only about 1% of what VisualTargeting®​ is capable of looking at and leveraging for world leaders.
150,000,000+ Registered Users
Educating the 150,000,000 member Adobe design community is a great start to bringing VisualTargeting®​​ directly into the hands of all designers. However, Adobe went one step further, applying their own 1% of VisualTargeting®​​ patented methodologies and existing market tested MatchFinder™​​​ technologies, publicizing "Palettes," a patented tenet of VisualTargeting®​ since before 2007. 
VisualTargeting®​ does innumerably more for individuals, designers and businesses than what Adobe is currently offering, however it is refreshing to see the beginning of these patented technologies being integrated into the world leading distributor of design software, Adobe, considering that the industry has been waiting for these two companies to work together literally since before VisualTargeting®​ was first born. 
In this new product offering, Adobe designers will now be able to create automatic customized color palettes that they will be able to activate throughout their Adobe software tools whether they are working in Photoshop or Illustrator or Acrobat, saving thousands of hours of time in the process of creating multiple images within any one given brand or campaign.
"Basically you will be able to make your images look like each other or like they are from the same collection instantly, in a completely customized way, and relatively automatically," Kronick tries to explain in easy to understand words.
The Original Foundation
This Automated Digital Palette tool is a very small piece of one of the original VisualTargeting®​ patents, that invented and brought the international business industry much more than the world's most effective approaches to color research and testing, and even more than multiple approaches to automated design, actually some things that most computer and smart phone users are now actively using on a daily basis.
"In 2010 we were spending months fighting for the right to say that we worked with one of our United States government related clients. We were being asked to be bound in several secrecy agreements and I kept trying to explain that being able to admit that we worked with them meant more to me than the generous contract they were signing. Eventually they agreed for the general deal to be public in order to be able to work with us. So they would fly in to meet with me personally in Los Angeles, and I would occasionally fly into Washington where I would find myself at surprise meetings in front of the FBI Headquarters," Steven Kronick remembers the journey that led to Adobe.
 "At that time after 2007 in Malibu I remember we were doing a very specialized project for this #1 United States business and government leader and sharing an internal part of the VisualTargeting®​ patented design technologies in order to help them be more effective at their goals. All these technologies that were involved were very clearly contracted in writing under license from VisualTargeting®​ at the time, and only for internal use if absolutely required. So you know they say that God works in mysterious ways, and it is genuinely fascinating to see Adobe revealing our patented Visual Preference Matching Digital Palettes to the world, that in the past were reserved internally only for qualified world leaders," Steven Kronick reminisces. 
The Future of Design
Adobe taking the first step into bringing the tenets of VisualTargeting®​ to light within its global community of 150,000,000 registered users in the design world, marks the start of a new era for design. An era where all designers will begin having direct access to "The very cutting edge of marketing and communications today" in the words of international best seller and advisor to more than 50 Fortune 500 companies Chet Holmes. An era where every business will start having easy access to the one technology that simply "Makes design more than a guess," as eloquently summarized by annual design and marketing best seller David Meerman Scott.
"Having a bright future," international design celebrity and advertising best selling legend, Rory Sutherland, a head of the world's foremost design and advertising agency with 450 offices worldwide, Ogilvy, the industry leader who invited VisualTargeting®​ to become Official Partner after seeing what happened in their own work with turning squares into diamonds, reminds us that "This type of research makes 90% of the Consumer Decision."
Click Here to Read the Original Adobe Worldwide Letter Sent on 10/4 to Get Started
Share: